Reliable, Simple-to-Use Flow & Energy Measurement Systems
Through continuous innovation, We transform complex cutting-edge technologies into affordable, reliable and simple-to-use tools for accurate flow and energy measurement. Our ultrasonic flow meters, ultrasonic water meters, BTU meters, electromagnetic flowmeters, KWH meters, automatic meter reading (AMR) and advanced metering infrastructure (AMI) systems - easily customized across a broad range of applications - help you boost system performance, conserve resources, improve efficiency and reduce costs.
Spire Metering Technology is now ISO 9001 certified. See our official certificiate here.
Visit our Booth #200 at Globalcon 2017
Spire Metering Technology will be exhibiting at the Pennsylvania Convention Center in Philadelphia, PA on March 22nd-23rd for the Globalcon 2017 Expo. We invite you to visit our booth #200 to explore our next generation flow and energy measurement products!
Read More >>

Latest News Release
Transit Time Flow Measurement Versus Ultrasonic Doppler Technology Interview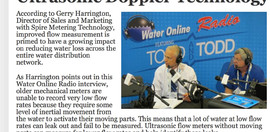 Come and listen to Spire Metering Technology radio interview with Gerry Harrington with Todd and Todd of Water online.

According to Gerry Harrington, Director of Sales and Marketing with Spire Metering Technology, improved flow measurement is primed to have a growing impact on reducing water loss across the entire water distribution network.
Below is a link to listen to the interview from the show on Water Online Radio.

http://www.wateronline.com/doc/transit-time-flow-measurement-versus-ultrasonic-doppler-technology-0001

Read More »
Commercial and Industrial Water Meter 280W-CI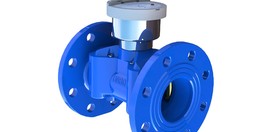 This water meter performs reliably when the water has high particulate or the environment is harsh. Both commercial and industrial installations can profit from the advantages of the wearfree water flow measurement, precision, and operation security and long service life.
Read More »
Come See Spire Metering Technology at booth # 3756 at AHR 2015 show in Chicago, IL.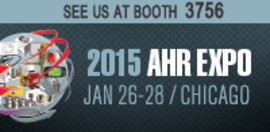 Come visit Spire Metering Technology product specialists and get all your questions answered. We will be exhibiting at the world's largest HVACR tradeshow, booth # 3756 at the AHR 2015 Annual Conference and Exposition: January 26-28, 2015 McCormack Place, Chicago, IL

Products that we will be showcasing are;
Multivariable Mass Vortex & Volumentric Flow Meters 602VFM
Ultrasonic Heat Meter 280T
Clamp On Ultrasonic BTU Meter TP10
T-MAG Electromagnetic BTU Meter
Read More »